AriZona Beverages and NBA-star Shaquille O'Neal engaged Mpire Creative to develop an innovative product design for the company's latest venture — Soda SHAQ™, a line of all-natural cream sodas (available in vanilla, blueberry, orange, and strawberry cream) in collaboration with O'Neal and 7-Eleven. AriZona is known for its iconic $0.99 big can and "keep it real" approach to marketing. Mpire's directive was to ensure that Soda SHAQ captured the imagination of both AriZona's large social media following, as well as O'Neal's devoted fan base.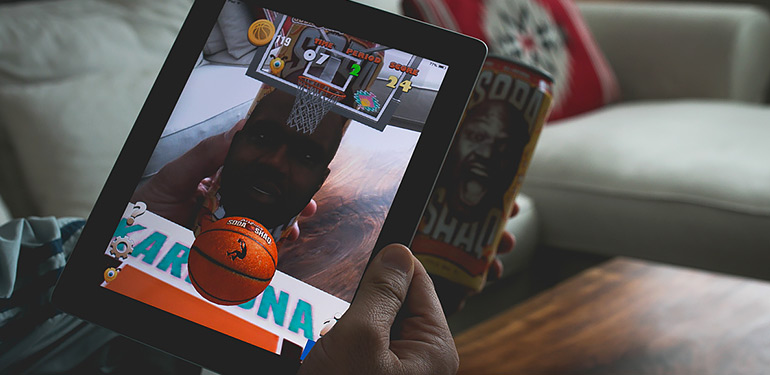 To achieve this, Mpire developed eye-catching creative that highlights O'Neal's most marketable assets — his famous face and 'oversized' personality. Inspired by the concept of emoji, 8 labels were created — 2 for each flavor — featuring a unique facial expression. Not only do consumers immediately connect with O'Neal's image, but the exaggerated facial expressions resonate subliminally with a global, digital-savvy audience. As predicted, the labels have inspired fans and celebrities to imitate the faces on the can and to share these photos with their own social networks.
To further promote the product, Mpire worked with Product Broadcasting, Emulate3D, and Skystorm Productions to create Soda SHAQ Basketball — a one-of-a-kind augmented reality experience that transforms the can into an interactive hoops game. After downloading the free app, consumers simply point an iPhone/iPad or Android at their favorite beverage and it instantly transforms into a 3D gaming experience that invites gamers to "take their best shot." With the flick of a finger, gamers can sink a basket as a 3D Shaquille O'Neal avatar shouts taunts, cheers, and entertains.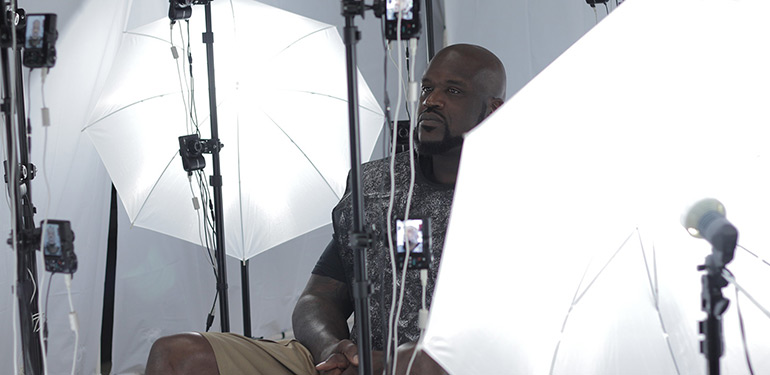 Clearly, Soda SHAQ is more than just a great tasting beverage, successful celebrity endorsement, and highly-stylized can — it's also a viral phenomenon. Thanks to innovative design and cutting-edge technology lead by Mpire Principal Moon Mehta and Creative Director Scott Kyle, consumers not only engage with the product in a meaningful way, but also, for a moment, transcend reality.